Learn How to Use Kettlebells to Lose Body Fat, Gain Lean Muscle, and Get The Toned, Flat Midsection You've Always Wanted …
If you're trying to lose body fat and you're not using kettlebells in your workouts, you're missing out big time.
Kettlebell training has taken the fitness world by storm. Everyone from stay at home moms to high level athletes are enjoying the benefits of kettlebells for losing fat, gaining lean muscle, improving flexiblity and increasing their cardio conditioning.
Now, the bad thing about kettlebell training is that it's pretty technical – that is, reading an article or two on the internet and watching a few YouTube videos just isn't adequate preparation for safe and effective KB workouts.  In fact, it's a good recipe for injury.  You need hands-on instruction to learn how to use kettlebells safely and effectively.
If you're interested in learning how to use kettlebells to lose fat, I have great news: my Kettlebells For Fat Loss Workshop is set for the 19th of July, 2014 – and there are still spots open if you're reading this page!!
Introducing the Kettlebells For Fat Loss Workshop with Forest Vance, Level 2 Russian Kettlebell Challenge Instructor
When: Saturday, July 19th, 2014, 12 – 2:30 pm
Where: The Forest Vance Training, Inc. personal training studio in the Land Park area of Sacramento, CA
Price: $49
Topics covered will include:
The best kettlebell exercises for fat loss – exactly what they are and exactly how to do them
The best kettlebell workouts for fat loss – how to put the exercises you learn together into efficient circuit-style workouts that take 20-30 minutes and melt fat off your body
Drills to help you master basic kettlebell exercise form and to help you practice on your own
Tips, tricks and corrections for many common kettlebell training mistakes
And much more!
Here's another sample of the kettlebell training tips you'll learn at the workshop:
As an added bonus, I'm going to give a FREE copy of 10×10 Kettlebell Solution book to the first 10 folks who sign up!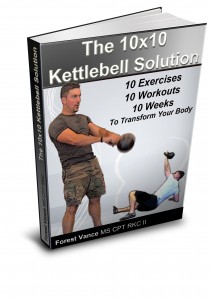 With my 10×10 Kettlebell Solution system, you'll get a complete blueprint for losing fat, flattening your stomach, and gaining lean muscle using just kettlebells and your own body weight.  It's the PERFECT compliment to the information you'll be learning at the workshop.
You'll learn:
How to perfectly perform the 'core 10′ kettlebell and body weight exercises.  You'll get maximum results in minimum time and stay injury free.
Kettlebell training tips that clients say make all the difference in their training progress.  It'll be like having me as your personal trainer over the next 10 weeks.  These are training tips that you truly can't find anywhere else.
Exactly what to do every day for the next 10 weeks to reach your ultimate fitness goals.  No more guess work … just a done-for-you plan.
How to fix many of the common kettlebell and body weight technique problems – 'pick my brain' and get the benefit of my years of training experience on this one (I see the same issues over and over again … and I've included fixes to lots of common training problems in this manual)
And much more!
First 10 folks to sign up get a free copy of the 10×10 Kettlebell Solution, and we have 15 spots MAX available for the workshop. Register ASAP!!
F.A.Q.
I have a bad back/knee/shoulder/etc. – are kettlebells for me?
Kettlebell training done right is actually good for your back.  Here's an article that does a great job explaining why:
http://www.southeasternkettlebellclub.com/index.php?option=com_content&view=article&id=59:kettlebells-for-back&catid=34:news-items&Itemid=141
But it's even more important that you're using perfect form if you have any kind of injury.  That's why getting proper instruction is so critical.
That being said, there are some physical limitations that would probably make kettlebell training a bad idea.  If you have further questions specific to your situation, contact me via the link below.
I'm out of shape.  Is this workshop for me?
We will be working out on and off for about 2.5 hours – so yes, you do need to have a base level of fitness established, but you don't have to be in world class condition.  Again, contact me for questions about specific situations.
I don't want to bulk up.  Are kettlebells for me?
One of the best things about kettlebell training is it's ability to build a lean and toned physique.  So without a doubt, if you're looking for fat loss and lean and toned muscle, kettlebell training is for you!!
First 10 folks to sign up get a free copy of the 10×10 Kettlebell Solution, and we have 15 spots MAX available for the workshop. Register ASAP!!
If you have further questions about the seminar, feel free to contact me by clicking the link below:
Contact Forest by clicking here OR by calling 916.273.9366
See you there –
Forest Vance, MS, CPT, RKC II